Attractions
Cragside House and Estate
Cragside House and Estate
Enter the world of Lord Armstrong – Victorian inventor, innovator and landscape genius. Cragside house was truly a wonder of its age. Discover the first house in the world to be lit by hydroelectricity. It is crammed full of ingenious gadgets – most of them still working. The gardens are incredible. One of the largest rock gardens in Europe leads down to the Iron Bridge, which in turn leads to the formal garden. Children will love the adventure play area and exploring Nelly's Labyrinth, a network of paths and tunnels cut out of a vast area of rhododendron forest.
The History of Cragside
Cragside was created largely by three remarkable Victorians – its owners, William and Margaret Armstrong, and their architect, Richard Norman Shaw. Despite later changes, the house and estate still bear their distinctive stamp. Sir William, later 1st Lord Armstrong (1810-1900) had one of the most extraordinary careers of the Victorian era. In 1863, not having taken a holiday for years and tired after organising a conference of the British Association, Armstrong visited Rothbury. He had happy childhood memories of the area, and decided to build a place in the country. And so Cragside began.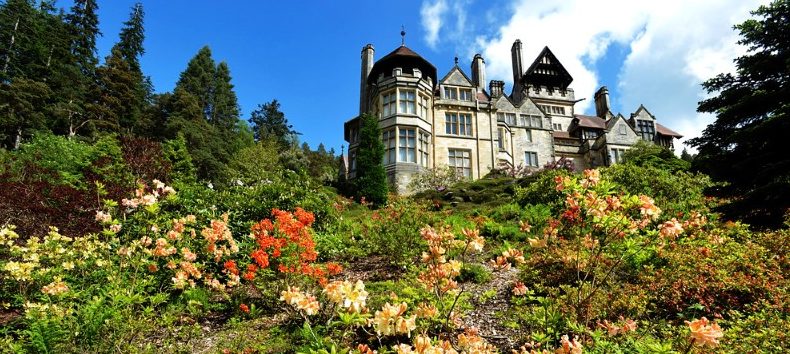 Lord Armstrong
From an early age, the young William Armstrong had a natural aptitude for all things mechanical, taking apart toys to find out how they worked, and inventing and making his own with materials found around the house.
Lord Armstrong was an engineer through and through and he brought his wealth of professional experience as a great civil and mechanical engineer to brilliant effect at Cragside.  He knew how to move water about after working on a project to bring fresh drinking water to Newcastle.
Building and civil engineering wasn't a problem; he had seen his factory built and knew all about bridge construction. Mechanical engineering was his meat and drink at his Elswick Works on the Tyne.  He was 53 when he started Cragside and knew his stuff, and if he didn't know something, he certainly knew someone who did.
His technical and scientific mind made Cragside a wonder of its age and provided incomparable luxuries.  Imagine the task of installing an infrastructure of pipes and a hydraulic engine that pumped thousands of gallons of fresh water to the House enabling: hot & cold running water, a Turkish bath suite, hot room, a rain shower and plunge bath.  Both adults and children will love the tour around Cragside House as it portrays many of Lord Armstrong's earliest inventions being used in the everyday life in the 1800's.
The Gardens
In Cragside, there are 3 different gardens to explore; The Pinetum, The Rock Garden and The Formal Garden.
The collection at Cragside is a vast mass of plants not only in terms of numbers but also in their sheer physical size.  Lord and Lady Armstrong directed the planting of seven million trees and shrubs across this dramatic landscape.  It's a passion they shared, taking a bare and barren hillside and creating a fantasy woodland garden in less than 40 years.
As if this great woodland garden wasn't enough, they created a horticultural jewel in the form of the Formal Garden.  Plants from around the world are grown here – both tender and hardy – giving even more variety to an already colossal collection.  In spring, brilliant bulbs bloom.  In summer, it's an exotic extravaganza of tender treasures, which continue into autumn until the first frosts. Topping it all, an Orchard House for all seasons was introduced as a cathedral to the culture of hardy and exotic fruits.
In the Rock Garden, you can see Rhododendron 'Lady Armstrong' growing on the rock garden, flowering her heart out in early June.  It's named after our Lady Armstrong, raised by the famous nursery of Waterer's of Bagshot in Surrey c.1870.  The Armstrong's spent vast amounts of money on plants and these nurseries benefited greatly.  No wonder the nurseries were prepared to name new hybrids after their most valued customers, when you consider the scale of planting at Cragside.
Conifers – native and exotic – are the backbone of this landscape – The Pinetum. Great drifts of the billowing, crowned, bluey-green Scot's Pine and the timeless, dark green Yew make up the native contingent.  From North America, rocket-like specimens of whom Cape Canaveral would be proud, dominate the tree-scape.
read more
For Children at Cragside
In the heart of the gardens, there is a huge fabulous play area to explore for ages up to about 15. From monkey bars to spiral slides, there is also a picnic area if adults want to relax and have a snack.  There is also Nelly's Labyrinth, which is a network of winding paths and tunnels cut out of a vast area of rhododendron forest.  Named after a reputed local witch, the labyrinth is a great place to play hide-and-seek or explore.
There are also the 'Cragside Trails' that take you to 50 different places in Cragside, and makes sure you explore every part of the estate! A must on a fine day.
Eating at Cragside
The tearoom at Cragside is open from 10am and serves some delicious traditional Northumbrian food.
Enjoy a delicious cream tea with home-baked scones or a 2 course meal with a glass of wine, all food is made on the premises and they have some fabulous cakes to try. The home-made soup is a favourite, and they also have a children's menu offering packed lunches. There is outdoor seating in the warmer months so you can view the fabulous grounds of Cragside.
Also during the summer months, you can buy ice creams and drinks from the entrance to the house, and at the children's play area.
Website:
Telephone No:
01669 620333
Address:
Cragside Gardens and House, Rothbury, NE65 7PX
Opening Times:
Opening times: 10am – 6pm, 11am – 4pm during winter. Please check website for specific opening times.
Not sure where to start?
We know Northumberland and all of our cottages inside out, so if you have any particular queries, please don't hesitate to call or email us. We're more than happy to help!
Telephone: 01665 710 700 or click here to email us.