April 15th 2021
Picture Perfect Beaches in Northumberland
Northumberland is full of incredible coastline, and no matter which area you visit, you won't be disappointed. From dramatic castle backdrops to long stretches of golden sands, here at Coquet Cottages we've put together a list of picture-perfect beaches.
Bamburgh Beach
As one of Northumberland's most famous beaches, it's easy to see what really makes Bamburgh stand out. With pristine sand backed by sand dunes and the breathtaking Bamburgh Castle dominating the skyline beyond the dunes, Bamburgh Beach is the perfect place for coastal walks.
Beadnell Bay
Beadnell Bay is a dog-friendly sandy beach in a horseshoe-shaped bay just south of the village of Beadnell. The glorious golden sand, curves around the bay forming a natural harbour. Beadnell Bay is backed by grassy sand dunes and fields beyond. Click here to find out more about Beadnell.
Druridge Bay
Running from Amble to Cresswell, this 7-mile stretch of beautiful golden sands is vast and beautiful – definitely one of our favourites here at Coquet Cottages. When you drive to Druridge Bay, you'll see a great country park with a lake which is home to an abundance of wildlife.
Embleton Bay
Embleton Bay is a long stretch of beautiful golden sand, overlooked by the dramatic ruins of Dunstanburgh Castle. Behind the beach you will find Dunstanburgh Castle Golf Club and a little way beyond this the medieval village of Embleton.
Warkworth Beach
You'll find Warkworth beach is a spacious sandy beach with fantastic water quality. It's the perfect place for long walks no matter what time of year – and it's dog friendly too! You can enjoy amazing views from Warkworth Beach towards Alnmouth and across the waters toward Coquet Island. View our holiday homes in Warkworth here.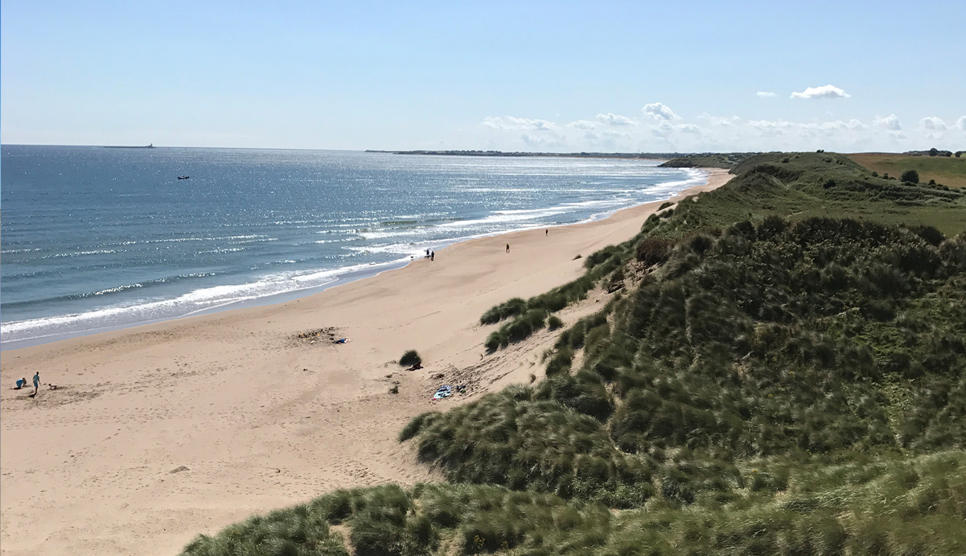 Do you have any photos from your trip to Northumberland? Head to our Facebook Page to share your experiences.
Back to Blog