Rothbury and The Coquet Valley
Rothbury is situated in the heart of The Coquet Valley, in the heart of the Northumbrian countryside and is incredibly picturesque and tranquil. It's just the perfect destination for sightseeing, walking, cycling, fishing and birdwatching. The historic market town of Rothbury provides an interesting range of restaurants, pubs and interesting independent shops. Cragside House and Estate and Hadrian's Wall are both close by and absolutely unmissable.
Known as the capital of Coquetdale and situated in the centre of Northumberland county, the picturesque small market town of Rothbury is a peaceful haven and an ideal base from which to explore the spectacular Northumberland countryside and coast, its castles, stately homes, areas of natural beauty, historic landmarks and fascinating history. With the beautiful River Coquet meandering through the town of Rothbury, having journeyed its way from the solitude of Upper Coquetdale, you'll find Rothbury a relaxing and peaceful destination offering a warm Northumbrian welcome.
Rothbury Town
Although classed as a market town, everyone still tends to refer to Rothbury as a village as it is more akin to a large village with its sandstone buildings, traditional tearooms, little independent shops featuring local art and fine food, including an award-winning family-run butchers shop and local delicatessen in the high street.  There are lovely walks throughout the village and alongside the River Coquet. Why not check out Wood Cottage in Thropton, just 2 miles from Rothbury, where you can still walk to the town from the cottage.
The road network to and from Rothbury is excellent, easily accessed from the A1 trunk road and Newcastle International Airport can be reached within 40 minutes. There are mainline rail stations at Alnmouth and Morpeth, both of which can be reached within 35 minutes.
Cragside
If you enjoy visiting historic houses and buildings, the nearby National Trust property of Cragside House and Gardens is magnificent. Coquet Cottage is only 6 minutes away in the car!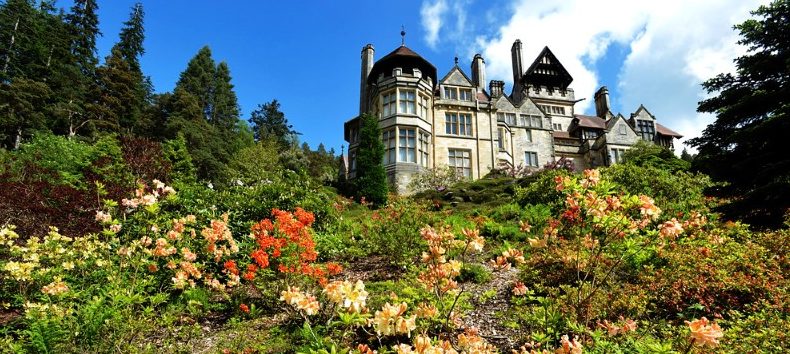 Set amongst beautiful gardens and extensive woodlands, this landmark house was once the country home and estate of the industrialist and Victorian inventor, Lord Armstrong.  In fact it was Lord Armstrong (1810 – 1900 ) who helped shape modern Rothbury.  Many local buildings reflect his Victorian style and prosperity and he was incredibly forward-thinking in terms of establishing farms using the latest farming techniques to increase efficiencies.
At the same time, the planting of more than six million trees and shrubs transformed the surrounding landscape. His magnificent home at Cragside, now in the care of the National Trust, is visited by more than 150,000 people annually, and interestingly, was the first home in the world to be lit by hydro-electricity, of which Lord Armstrong was the pioneer.  Lord Armstrong even hosted visits by the leaders of other countries, including Japan, keen to see and hopefully emulate, such an innovate residence.
Today, Cragside is still a fine example of that period where visitors can view not only the rooms but also an ingenious collection of gadgets from the 1800's era and experience the wonderful 1,000 acre Cragside estate, currently home to the increasingly rare red squirrel.  Or why not visit the beautifully restored 12th century Augustinian Brinkburn Priory situated just a few miles south east of Rothbury.
If you are an artist, photographer or nature lover, you will find Rothbury and the surrounding countryside and coast to be a haven of opportunities.  From all sides of Rothbury itself, there are magnificent views to be had of Blaeberry Hill, Cragside, Simonside and in the distance the wonderful Cheviot Hills some 10 miles west of Rothbury.  Further afield the stunning scenery of Northumberland is sure to inspire you.
If you are a walker, a cyclist, an archaeologist, a historian or just simply enjoy being outdoors, you won't want to miss the opportunity to explore the surrounding Simonside and Cheviot Hills, a wild romantic landscape of rounded hills and valleys; all part of the 400 square miles of Northumberland National Park which contains 196 scheduled ancient monuments featuring many cup and ringed marked rocks, burials and cairns from the prehistoric times. Lordenshaws Hillfort (GR NZ 055993) to the south of Rothbury being just one example.
Also within Northumberland National Park and officially classed as a World Heritage Site, is the best known archeological site, Hadrian's Wall and its Roman forts and settlements.  Additionally, starting from Rothbury, there is the opportunity to enjoy guided walks researched and produced by local Northumbrian shepherd, Jon Monks, explaining points of local interest. For those more able, you can stretch your legs further still whilst taking in the dramatic scenery of the National Park on one of Jon's more demanding walks in the surrounding hills.
For those of you who enjoy the sea and sand, then the spectacular Northumberland coastline and its beautiful beaches – designated an 'Area of Outstanding Natural Beauty' – are just twenty miles east of Rothbury.  In fact, our visitors often remark how unspoilt our beaches are upon seeing the miles of soft golden sand and extensive range of dunes along the Northumberland coastline.
If you are fisherman or golfer, there are several good locations and courses to be found locally, including trout fishing at the 50 acre Caistron Lake, 5 miles west of Rothbury and an 18 hole golf course at Rothbury Golf Club which welcomes visitors and junior visitors alike.
With so much to see and do in Northumberland, you will find that Rothbury is the ideal base to explore Northumberland and its many treasures, including Holy Island (Lindisfarne), Bamburgh Castle, Alnwick Castle, Alnwick Garden and many more! Therefore, to help make your stay truly memorable, we have provided some further information below for you to peruse.
read more
Things To Do
In the following section, we have focused on 'Things to Do' in Rothbury and Coquetdale, however, there are so many places to visit in Northumberland that we recommend you plan your holiday to maximise the time you have available.  A good place to start is the Visit Northumberland tourist website, which covers a vast amount of information on places to visit, opening times, special events, sporting facilities, etc.  There are lots of tourist information brochures in each of our properties, so you can browse at your leisure on arrival to plan your days out. Here is just a small selection! Please click to read more about each activity.
Where to Dine Out in Rothbury
For such a small and peaceful market town, you'll find a great choice of places to eat in Rothbury. See some suggestions below, and remember to book your restaurants in advance to avoid disappointment!
For a hearty pub lunch, Newcastle House Hotel on the main street in Rothbury. Offering traditional meals through the day and an Indian restaurant – Anisha's – in the evening, there's a great choice of dishes to enjoy!
Tel: 01669 620334
Click HERE to visit their website
The Queens Head in Rothbury is the perfect stop if you're looking for pub grub in a warm and welcoming atmosphere. Look out for their live music nights – ideal for an evening out!
Tel: 01669 620487
Click HERE to visit their website
Using local suppliers, the menu at The Turks Head has been developed to suit all tastes, with a great choice to family-friendly, vegan-friendly and vegetartian dishes on offer. Book is advised, especially for groups of 6 or more.
Tel: 01669 620434
Click HERE to visit their website
Established for over 100 years, Tully's of Rothbury is a traditional village store, delicatessen and coffee room. If you're looking for a pitstop, you can enjoy a variety of teas, coffee and homemade cake. Or why not treat yourself to one of their lunch time platters? With a range of meats, cheese, olives and crackers, you won't be disappointed.
Tel: 01669 620574
Click HERE to visit their website
This family-run cafe serves up delicious home cooked meals from breakfast to fish and chips and warming soup. It's a fantastic place to stop and enjoy a cup of coffee and a tasty meal.
Click HERE to visit their Facebook page
History of Rothbury
Coquetdale is steeped in folklore and history.  Cup and ring marks at Lordenshaws are pointers to a long-forgotten past, the Saxon warrior Hrotha is also better known in legend than by the scattered stones which mark the first Rothbury and the great battle of Brunnaburg – fought between Athelstan and Analf – is said to have taken place at nearby Brinkburn in AD 935. Good evidence for this is as capricious as sightings of Simonside's cave-dwelling Deugar – a fearsome yeti-like creature who lures walkers to their doom before roasting their corpses over a peat fire.
Other early influences on Coquetdale and Rothbury were of a religious nature. Between 1130 and 1135 AD, the Norman baron, William Bertram, gave the Augustinian canons a plot of around 3500 acres, whereupon they built a monastic house and the present day buildings of Brinkburn Priory. The beautifully restored 12th Century Augustinian Brinkburn Priory church situated on the River Coquet and just a few miles from Rothbury is currently owned and managed by English Heritage.
During the 14th century, there was much conflict between England and Scotland resulting in raids and destruction that inevitably affected Brinkburn Priory and the surrounding areas, one such raid being instigated by the Scottish King, Robert the Bruce. However, it wasn't until 1536 that Brinkburn Priory closed under Henry VIII's dissolution of the monasteries.
Nowadays you will find the church beautifully restored and it is here in the vicinity of the church and within the grounds of Brinkburn Priory that you will also find Priory Cottage, the Grade II listed coach house, now a delightful 1 bedroom guest cottage. Alongside the Priory Cottage, lies The Stables, a fabulous conversion of the ancient stable building that once served the residents of Brinkburn Priory.
If we look to the hills we can still see that hill farming is very much evident and has been the mainstay of the local economy for many generations. Famous names, such as Armstrong, Charleton and Robson, remain well-represented in the farming community. Their forebears, members of the reiver 'clans', were in constant conflict with their Scots counterpart. In the 15th and 16th centuries, the Coquet Valley was a pillaging ground for bands of Border Reivers who attacked and burned Rothbury. The constant warring between families living north and south of the English – Scottish border changed the lives of many families. Crops were destroyed, homesteads burnt and people were murdered or dispersed. As a consequence of this, it seemed that families took to 'reiving', that is raiding for cattle and sheep and whatever else that could be transported in order to survive. For the many families that were affected, it became an established way of life for many generations. However, reiving wasn't just limited to the poorest people, many a nobleman condoned and even participated in the activities! The many fortified farms (or bastles) are reminders of troubled times which lasted until the unification of the kingdoms.
With regard to more recent times, older inhabitants look back with fond memories to the days when Rothbury had a railway line, a cinema in the Jubilee Hall and full employment. These are now mostly gone, but Rothbury remains a progressive and bustling residential and commercial centre with excellent schools, a hospital, library, football team, a recreation club catering for tennis, bowls and five-a-side football, excellent shops and an abundance of good places to eat.
Today, Rothbury is still a reminder of what most of rural England was like forty years ago and the town still boasts traditional independent shops, a selection of country pubs where locals gather to exchange news and gossip, and offers the visitor and resident alike, a gentler pace of life. For all its peacefulness and beauty, Rothbury is very much occupied by a very forward-looking and active community who ensure that the town remains in a strong position to go forward into the future.
read more
Not quite sure where to start?
We know all of our cottages inside out and the whole of the Northumberland area, so if you have any particular queries, please don't hesitate to call or email us. We're more than happy to help!
Telephone: 01665 710 700 or click here to email us your enquiry.